The 2018 Salary Survey is now available
The latest version of the Robert Walters Salary Survey is now available and you can request your free copy now. Don't miss out on the most up to date salary information and employment trends in Canada. The annual book contains recruitment market updates, hiring advice and salary information from across our Canadian markets.
For employers - With the latest information on salaries and employment trends across a range of industries, as well as hiring tips and advice, our 2018 salary survey will ensure you are best positioned to attract and retain top talent in your sector.
For employees - Due a pay rise in 2018? Find out what you're worth with the most comprehensive list of salaries in the industry. Or if you're considering making a move, find out what skills and experience employers are looking for, across a range of sectors.
Download the 2017 Global Salary Survey to access salary data and recruitment analysis from 27 counties.
Click here to view the Canadian analysis.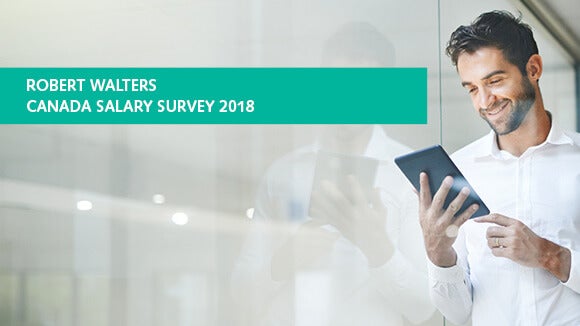 About the Canada Salary Survey
Now in its nineteenth edition, the Robert Walters annual Salary Survey is the most comprehensive review of professional salaries and recruitment trends around Canada.

The complete book is free, and is based on the analysis of permanent, interim and contract placements made across each of our recruitment disciplines.
Request your free copy of the 2018 survey today, or alternatively, download the 2017 version on our app for Apple or Android devices.
Hiring trends in Canada in 2018
Canada will enjoy another positive year throughout 2018, with Toronto experiencing ongoing growth. In particular, the Federal Government's Express Entry visa system will encourage the migration of skilled workers to the region, creating a rich pool for employers to access.
The CETA (comprehensive economic and trade agreement) between Canada and the European Union which came into effect in 2017 will encourage increased investment by European firms. The agreement also ensures the European qualifications are recognized in Canada, encouraging bilateral labor mobility.
Banking and financial services firms will continue generating demand for CPAs with a 'Big 4' background and experience in auditing financial institutions, such as private equity and real estate investment trusts (REITs). Securing top calibre professionals will be challenging, as competition from tech firms put pressure on talent pools.